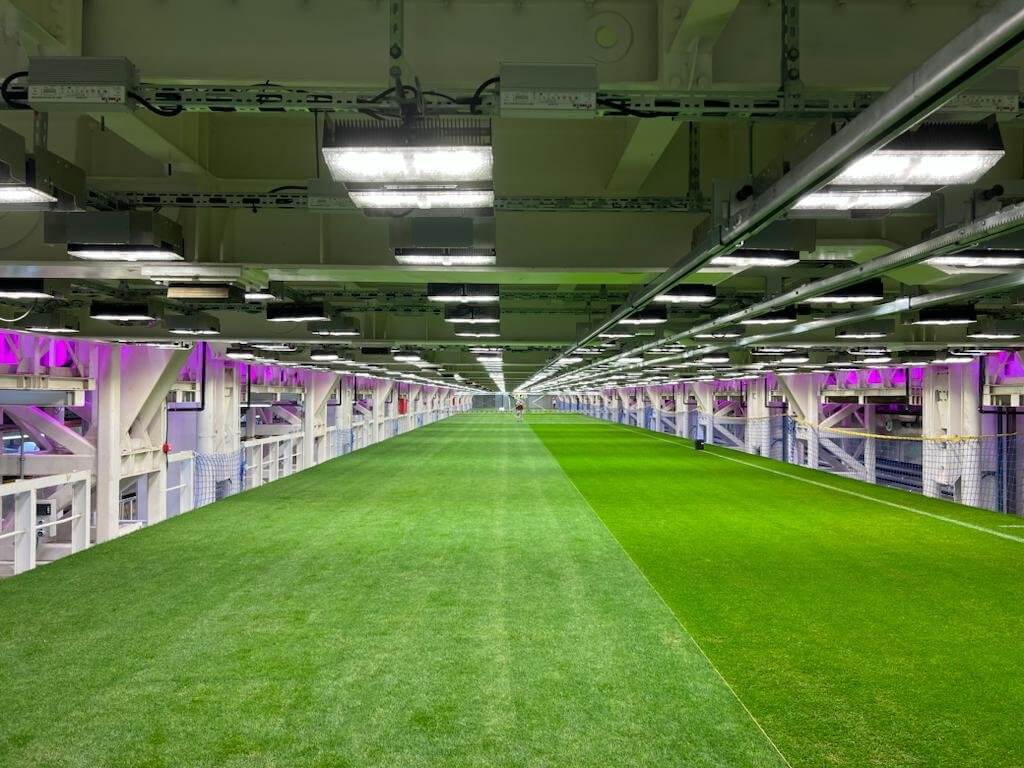 10Apr
Real Madrid Chooses Rhenac CLS Lighting
The revolutionary Complete Light Spectrum (CLS) variable spectrum technology will be used, which is most advanced lighting technology to guarantee the perfect state of conservation of the natural grass.
RHENAC SPORTS LEDS IS MANUFACTURING A UNIQUE SYSTEM FOR THE NATURAL GRASS GROWTH LIGHTING IN THE UNDERGROUND GREENHOUSE OF THE SANTIAGO BERNABEU STADIUM.
- It is the last element of the Automated Pitch System that Real Madrid has included in the Remodeling of the Santiago Bernabéu stadium.
- It is made up of more than 750,000 LEDs distributed in 6,300 luminaires.
- There are 5 channels of individual brightness adjustment for each colour of the spectrum, from ultraviolet to infrared.
- Assembly will begin as soon as the last match of the 2022-23 football season is over and will be ready for the start of the 2023-24 season.
- For the assembly and fine-tuning of the system, 6 teams of workers, electrical and mechanical fitters, will be available to complete the work during the coming summer, during the break between seasons.
- Prior to installation at the stadium, the assembly of the luminaires with their mechanical supports will be carried out at RHENAC Sports Leds' facilities in Hennef, Germany.
- A team of five engineers under the direction of a Project Manager and the supervision of Real Madrid will be involved in the entire engineering design process.
The CLS technology reproduces, in a completely flexible way, the illumination spectrum of sunlight, ranging from ultraviolet to infrared light. Each colour has an effect on the growth and treatment of the grass, so CLS technology can adapt to the needs of the grass at any given moment, and also ensures that the light reaching each section of the pitch, both in intensity and colour, is appropriate and evenly distributed. As a result, the pitch will be kept in perfect condition for sports practice, regardless of the time it remains inside the greenhouse.
The lighting system will consist of 6,300 variable spectrum LED luminaires, with a total of just over 750,000 LEDs, which will be powered by electronic power and control equipment to individually adjust the luminous intensity of the 5 spectral curves corresponding to the colours ultraviolet, blue, white, red and far red (or infrared). With this control system, pre-programmed lighting adjustments can be applied, or individual adjustments can be made per area for more optimised control according to the particular needs of the turf.
"Our decision to prioritise understanding the growing conditions that turf needs during its life cycle has put RHENAC Sports LED in a unique position to deliver a perfect pitch every time," explains Horst Theisen, CEO of RHENAC Sports LED. Rhenac is being distributed by the RSI SPORTS Group.