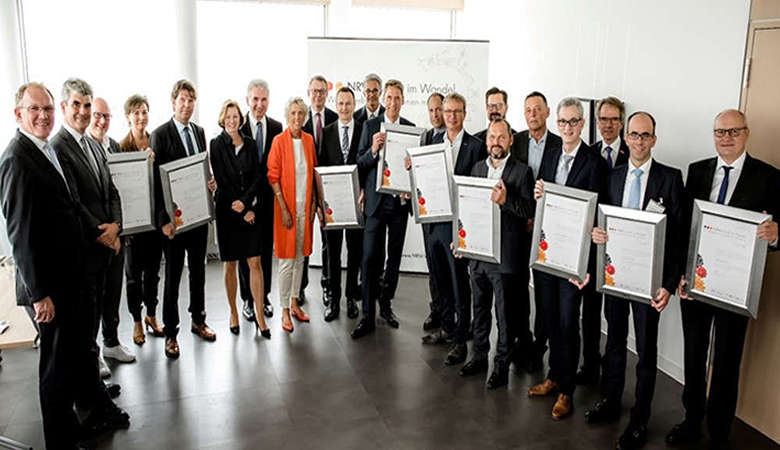 10Feb
RHENAC GreenTec AG bags NRW economy in change award
The award winners now met in the Ministry of Economic Affairs to receive their award in the competition "NRW economy in change". These included RHENAC GreenTec AG, which was commissioned by an expert jury under the patronage of Minister of Economic Affairs Prof. Dr. Andreas Pinkwart was selected as one of the ten outstanding companies that stand for the state's transformation process. Minister of Economics Pinkwart presented the certificate to Horst Theisen, the CEO of RHENAC GreenTec AG.
The Hennef  based company started in 2004 as a manufacturer of electronic components e.g. for the electrical and automotive industry, but decided in 2010 to invest in the then rapidly developing LED market, specifically in the area of artificial plant lighting. In this segment the company is now in a market leading position. Many of the RHENAC systems are patented and the field of application ranges from the climate chamber in the research institute to the lawn in the football stadium. "Today's award winners impressively demonstrate how companies in North Rhine-Westphalia deal with the challenging changes in the economy. Their innovative solutions show how much ingenuity and creativity is in North Rhine-Westphalian companies.
At the same time, they are a great example of how the structural change in North Rhine-Westphalia and throughout Germany can be mastered, "explained Minister Pinkwart. The "NRW - Economy in Change" competition, which takes place every two years, honors companies in NRW for creative corporate strategies, the use of new technologies and the dynamic adaptation of production conditions, thereby encouraging imitation. In addition to the regional sponsor Deutsche Bank, the accounting firm PricewaterhouseCoopers and the organizational consultancy Kienbaum are partners in the competition.